I can't thank Mr Vedi enough – you are a true professional
I finally feel I have my life back. I had lost my confidence and my independence. I was being looked after at the age of 40. But now I am over the moon and back to being ME again and doing all of my favourite activities such as yoga, long walks, shopping, cooking an...
Mr Vedi was gifted, talented and compassionate surgeon
I now enjoy a quality of life I had thought impossible only a few months ago. The joy of recovery and the sense of renewal have been one of the most profound experiences of my life. I am grateful for the absence of pain and the abili...
Mr Vedi is massive and I can only praise him and his team for the advice
Mr Vedi made a statement to me when we agreed the process (to have surgery) that has stuck in my mind. He said that a successful outcome of such an operation was just 10% down to him and 90% down to me, the patient. But I must say that the 10% performed by Mr Vedi i...
I can only thank Mr Vedi for such a successful result
Since having my right total knee replacement, I am delighted with the outcome. No more nagging arthritic pain. I can only thank Mr Vedi and all the staff at Bishops Wood Hospital for such a successful result.
~By - Anon
Aug 2019...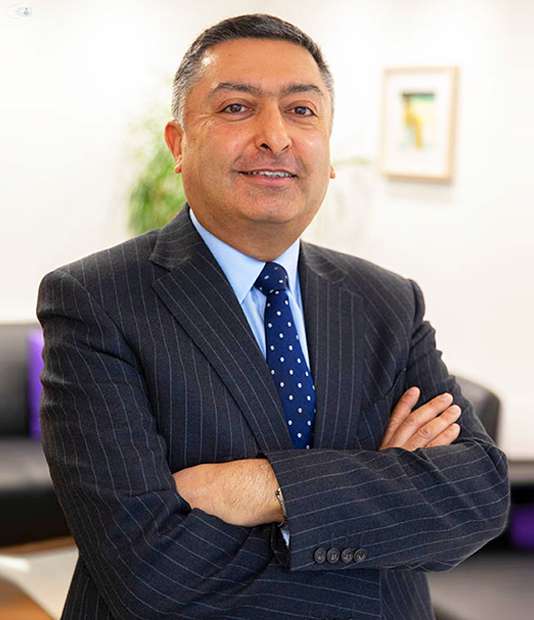 BSc(Hons) MBBS FRCS FRCS(Tr&Orth)
Consultant Orthopaedic Surgeon
Mr. Vedi aims to provide patient-focused, and state-of-the-art evidence-based care to all patients in his practice.
Mr. Vedi, I cannot thank you enough for all your help & words of encouragement... Write a Review

By ~ Mr. WB
~ treatment for infected loose TKR Summer 2014 ~
nSTRIDE autologous protein injection is a radical new treatment for knee osteoarthritis where blood is taken from the patient... Read More
By ~ Mr. Vikas Vedi ~ 05.02.19
~ Orthopaedic Surgeon ~
Rickmansworth Road Northwood, Middlesex HA6 2JW
United Kingdom

Tel:

Wexham Street Wexham, Buckinghamshire SL3 6NH
United Kingdom

Tel:

Osborne Road, Windsor, SL4 3SJ
United Kingdom

Tel:

941 Great Western Road, Brentford, Middlesex TW8 9DU
United Kingdom

Tel:

17-19 View Road, Highgate, London N6 4DJ
United Kingdom

Tel: