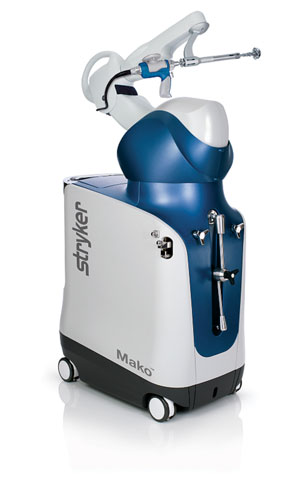 Over the years, knee replacements have undergone many improvements. Mako is the latest orthopaedic technology to come to BMI The Princess Margaret Hospital in Windsor. It's an advancement in the way surgeons carry out partial and total knee replacement surgery.
The technology comprises a surgical planning and navigation system combined with a robotic arm that is guided by your skilled surgeon. Knee replacement surgery involves removing part, or all of a damaged knee joint and replacing it with an implant.
Your surgeon uses Mako software to create a bespoke plan based on your individual anatomy. During the surgery, this detailed plan is used to ensure accurate removal of bone or cartilage as a well as precise positioning of the implant. This improved accuracy can mean a short stay in hospital, improved feel and function and less chance of problems in the future.
What is the robotic-assisted system?
The surgical planning and navigation system helps your surgeon before and after your procedure, aiding with accuracy throughout. There are four key steps:
A personalised surgical plan

You will initially have a CT scan taken of your knee joint before your operation
The Mako software uses this to create a 3D virtual model of your knee joint
Your surgeon then uses this model to design a highly personalised plan for surgery.

Continued assessment

Throughout the procedure, Mako sends real-time data to your surgeon, which means he can constantly assess your joint and make changes and adjust the plan if necessary.

Accurate bone removal

Your surgeon guides the robotic arm to remove damaged bone and cartilage during surgery
The Mako technology creates a virtual boundary to protect healthy bone and cartilage by constantly referencing the surgical plan.

Precise implant placement

The implant is then placed into the knee joint and carefully guided to the best location.
What are the benefits of robotic-assisted knee replacement surgery?
The key benefits of having a robotic-assisted knee replacement include:
Greater accuracy and precision

Studies show that Mako can help your surgeon place your implant more precisely; precision in implantation is a significant factor in the success of a knee replacement.*

Less chance of damage to surrounding tissue and ligaments

Mako gives your surgeon greater control over the surgery and establishes boundaries to protect the healthy parts of your knee.

Less pain

Studies have found that patients undergoing robotic-assisted knee replacement surgery reported less pain in the days and weeks following the operation as a well as the six months following.*

Faster recovery times

Research shows that knee function can improve more quickly after robotic-assisted total knee replacement than with traditional methods.*
One study or partial knee replacements found that 9 out of 10 patients were walking without aid after three weeks. After six weeks, 85% were back at work.*

Long-term satisfaction

One study found that 91% of people who had undergone robotic-arm assisted surgery were either satisfied or very satisfied five years after surgery. *
*For full references please click here to go to BMI The Princess Margaret Hospital on  Mako robotic-assisted hip replacement surgery.